Enrique Obregón
I have been 13 years with IPR Fresh now. I graduated from Law School in Monterrey Mexico in 2004 and came to Arizona to pursue a Law degree in the US. I started working at a custom house broker, while I prepared for my tests.
I was listening about IPR Fresh, every day when my Father came home after work, so I got curious and started asking questions about the business and became more and more interested. That's when he invited me invited to join him.  I still had my plans to study law but got hooked in the business, and started loving it, so I changed my life plans to help grow the company. And now here I am as a Partner.
What motivates me to be part of the team, is that everybody is full of energy, we all work as a team, we are all involved on important decisions.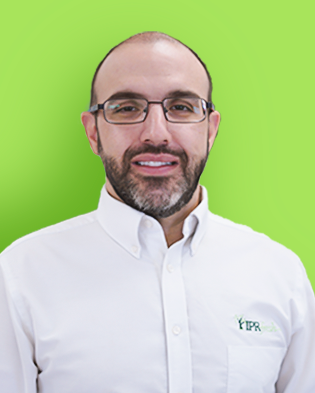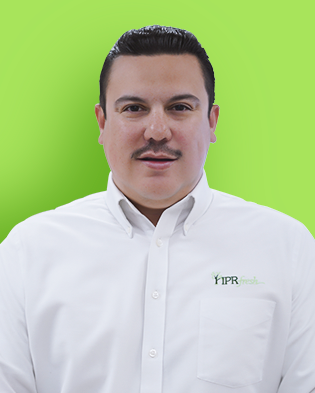 Eduardo "Eddie" Monge
I have been with IPR Fresh for almost five years now. I started with IPR Fresh as a Sales Coordinator, after a year I was promoted to Sales Representative. I came to IPR Fresh after working in the produce industry for a little over 12 years. Since I started working in produce I always wanted to be in sales. I have been blessed to be working in what I always wanted to work in. I remember in 8th grade was when I first thought to myself "I want to be like my dad and work in produce sales" After many years of working in the produce industry I was given the opportunity to jump to the sales team. And I couldn't have asked for a more supportive sales team.
I think what motivates me the most to be part of the team is the actual team. We are all very supportive of one another. We all help out each other. We respect each other completely. Whether it is something as serious as not trying to contact someone else customer to not eating each other's food in the refrigerator. I love the way we all respect and enjoy each other. We are truly friends outside of the office hour environment.
IPR Fresh for me is innovative, progressive and always eager to find solutions to the produce industries hurdles.
Manuel "Manny" Robinson
I have been four years and more to come as we keep on living. I first started as a maintenance employee during grape season, handling selected grape boxes to the inspectors for them to inspect. That same warehouse where I first started, I also used to do the dispatch and In & Out Service for IPR Fresh Team that I am now longer part of. In IPR Fresh I started as the Sales Coordinator for the Sales Team, I was involved in buying produce and coordinating with the other Salesmen to help them in any way to make their sales at an ease pace. Buying Power was my knowledge and my motivation. As I accomplished the Sales Coordinator position, I was then promoted to the Sales Team.
I not only see my team as my co-workers but as family as well is what motivates me to be part of the IPR Fresh Team. Also, our bosses and every individual in our team brings a huge impact on what motivates me and of course the art of selling and the commission I get throughout each season.
One of my personal objectives is to become more successful in this beautiful produce career with IPR Fresh as we keep on growing and to get more accounts especially in the retail side of the business. For me IPR Fresh is one big dream that I never Imagined to be in.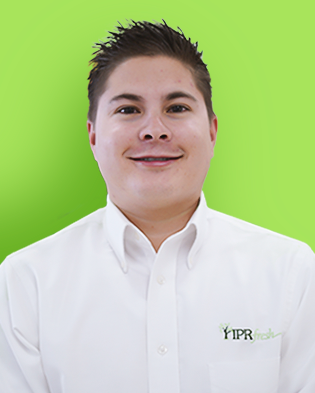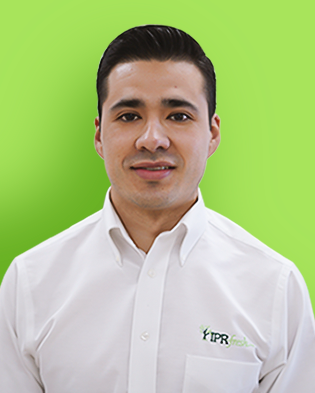 Sergio "Checo" Valencia
I have been with IPR Fresh team past one year. I heard about IPR within the Nogales/Rio Rico community as some of my friends had shared that it was a good and growing company, which sparked my interest to form part of IPR team. I started doing some research which led me to find a job opportunity and decided to try my luck and applied to the company and the rest is history.
IPR Fresh is a company that has strong values, takes care of their employees and treat us like family. We are a community-based company that help other business grow and provide them with the essential product that come from good quality. We grow together and make our work environment a pleasing one that both our clients and co-workers enjoy.
A great motivation to be part of IPR Fresh Team is all the good vibes and respect with my teammates. It encourages me that IPR is growing fast and I'm excited to see where things will lead to. One of my personal objectives is to continue to expand my knowledge within the company and whole business aspects as this will help me navigate sales more effectively and grow as a person who is an asset to the organization.